Welcome readers to The Virtual Poetry Corner.
Below you will see a map of Armenia and attached you will find a beautiful piece of music by a talented Armenian artist, singer songwriter, Lilit Bleyan.
(Permission courtesy of Lilit Bleyan.)
Hopefully this will spark your interest in the war that is happening in Armenia. There is a cease-fire at the moment but it is an unsettled and fearful situation. Bring your attention to Armenia's geographic position surrounded as it is by powerful nations. Bear in mind the memorial monument in the Rotund in Aix en Provence that commemorates the estimated million Armenians expelled from their country by Turkey. They were then massacred on the expulsion march. The novel, "Anyush" by Irish writer Martine Madden tells about this sad historical event and an impossible love story.
Armenia…The songs/poems of Lilit Bleyan.
ARMENIA'S GEOGRAPHIC POSITION IN EURASIA.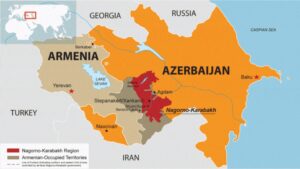 Armenia is landlocked in the South Caucasus region of Eurasia. Bordered by Turkey to the West,Georgia to the North,Azerbaijan and Artsakh to the East and Iran and Azerbaijan's enclave to the South.
The modern Republic of Armenia became independent in 1991 during the dissolution of the Soviet Union. It is a developing country and ranks 81st.on the Human Development Index (2018.) Armenia aligns itself in many respects geopolitically with Europe and the country is a member of numerous European Organisations, including the Council of Europe.
Armenia in 301AD. became the first State in the world to adopt Christianity as its official religion. Armenia also recognises the Armenian Apostolic Church, the world's oldest National Church as the country's primary religious establishment. The Unique Armenian alphabet was created by Mesrop Mashtots in 405AD. The alphabet has thirty nine letters, it is artistic and unusually beautiful. 96% of the people speak Armenian, 75.8% speak both Russian and Armenian. English is becoming increasingly popular.
The conflict in Armenia today is horrific and the world seems to be ignorant of the plight of these people. To quote a person who lives in Armenia's capital Yeravan "the situation we are in now is the worst that Armenia has been in during the last 100 years. These are the darkest days we could ever imagine, full of pain and sadness, so many friends have lost their sons, brothers and fathers. Thousands of migrants, so many left with no roof, so many need to start a completely new life from zero, and so many ancient Armenian lands have gone… So many historical monuments, so many towns and villages lost, but the greatest loss, of course, are the human lives. And nobody knows whether this is the end."
Lilit Bleyan
We pay tribute to the suffering people of Armenia by reading the songs, as poems, of one of Armenias's talented singer songwriters, Lilit Bleyan. You can get a sense of the words by listening to Lilit sing 'Steps on Water' on YouTube which is attached to this piece.
Lilit Bleyan was born in Yeravan Armenia in 1978. As a young girl she studied the violin and sang in a Chamber Choir. Music, singing and writing songs were her hobbies which later became her successful career. Lilit had a passion for languages and graduated from Yeravan State University with a degree in Spanish and English. Lilit's courses in TV journalism catapulted her into becoming one of the young faces on TV.A1 in Yeravan.
Lilit released her first single "Waiting Trains" in 2010 and it was an immediate success. Her first album the following year with songs in Armenian and Spanish was such that she left her career in journalism. Singing and songwriting became her full time career.
Lilit Bleyan's album "The Blue" is where we will find our poetry today as the songs are true poetic music. Lilit's songs have been played on radio in Spain,Italy,Slovakia and Uruguay. Some have been used as soundtracks to films and included in compilation C.D's. Lilit has performed in concert in Armenia and venues in Europe. She lives in Yeravan with her husband and two daughters.
Steps on Water
Light my way moon
So that I can see the waters
Light my way moon
So that I don't go astray.
It's a way home
Full of stories, full of wonders
It's a new, a different way.
Grey-grey with a blue lane
Careful footprints on
Water…..
Stray, stray to a calm bay
May the waves make me
Wiser…..
Light my way, stars
It's a journey full of dangers
Light my way, stars,
Will I ever be the same?
Steps on water
Just as fragile as my trust is
Just as fearful
For there will be no one to blame.
Grey-grey with a blue lane
Careful footprints on
water…..
Stray, stray to a calm bay
May the waves make me
Wiser…..
Dizzy
Am I still there
Deep in your thoughts?
Do you feel dizzy,dizzy,dizzy when I call?
A late-night thought, a hidden smile
Will make less freezing,freezing, freezing
All the nights apart.
Out, out in the night a spot of your light
Endlessly calling,calling, calling
Hide, hide it away till that one day
Carelessly lovely, lovely.lovely…
You are still here among those fears
That keep me singing,singing, singing to the winds
Lost in my strolls along the edge
Prending dreamy, mooney, sleepy,
Just to hide the trace.
Out, out in the night a spot of your light
Endlessly calling, calling, calling
Hide,hide it away till that one day
Carelessly, lovely, lovely, lovely…
A Blue Band
I'll tie a blue-blue band
To show you the way
It will be a true-true sign
That I am waiting there
I'll keep the curtain down
To hide us away
And hours within this room
Will flow as a year.
A blue band, a blue hope
Illusions alive
Whatever you bring with you
Is all that I have
A blue band, a new sky
A blow in my mind
Whatever I take with me
Will always be mine.
Loving so desperately
Like there's no more chance
Jailed in this tiny room
To kill all the eyes..
I'll hide the blue-blue band
In a secret box
Drowning its tiny key
In my happy voice.
A blue band, a blue hope
Illusions alive
Whatever you bring for me
Will be all I have.
A blue band, a new sky
A blow in my mind
Whatever I take from you
Will be only mine.
All poems (c) by Lilit Bleyan from her album 'The Blue.'